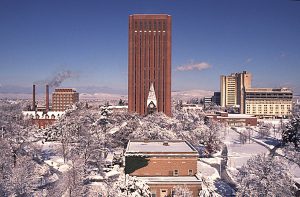 The Du Bois Library houses the memoirs and papers of the distinguished African American scholar, writer, and activist, W.E.B. Du Bois. The papers were acquired by Dr. Randolph Bromery, who was a friend of Du Bois and UMass Amherst's first African American Chancellor. Built in 1974 by Edward Durrell Stone and called the Tower Library, the building was renamed the W.E.B. Du Bois Library in 1994 after a popular movement on campus. Additionally, the University owns the W.E.B. Du Bois boyhood home site in Great Barrington, Massachusetts.
On October 5, 1994, the University of Massachusetts Board of Trustees voted to name the main library at the Amherst campus in honor of W.E.B. Du Bois. Trustee Document T94-096 states: "As we march into the Twenty First Century we feel that it is time to go beyond the color line and appropriately name the Tower Library in honor of one of the finest heroes, not only of Massachusetts but of the world—William Edward Burghardt Du Bois."
The decision to name the library in honor of Du Bois was not made without some campus controversy. Two years earlier, students, faculty, and others in the UMass community moved that the building be named for Du Bois. Those demands were met with resistance by the administration, who wished to reserve the right to name the library for a future donor. Early in 1994 the W.E.B. Du Bois Petition Coalition formed, uniting behind the mission of naming the Tower Library for Du Bois with the additional goals of increasing enrollment of ALANA students (African American, Latin American, Asian American, and Native American) to 20 percent and increasing the availability of scholarships to students who were economically challenged. This activity culminated in a rally on campus in March 1994, and by April, then Chancellor David K. Scott endorsed the plan to name the library for Du Bois.
Not everyone in the UMass community supported the idea of naming the library for Du Bois. A small vocal group of students objected to the action on the basis that Du Bois was both a Communist and anti-American. These students pointed to the fact that late in life Du Bois publicly joined the Communist Party and left the U.S. permanently when he moved to Ghana at the age of 93. Many of these arguments centured on Du Bois renouncing his U.S. citizenship—he did not, although he did accept Ghanian citizenship and was a dual citizen of both countries when he died on the eve of the 200,000-person March on Washington for Jobs and Freedom, on August 28, 1963, which culminated with Martin Luther King Jr.'s "I Have a Dream" speech.
Despite the controversy, the Trustees approved the action in the fall of 1994, and almost two years later the library was officially dedicated as the W.E.B. Du Bois Library.