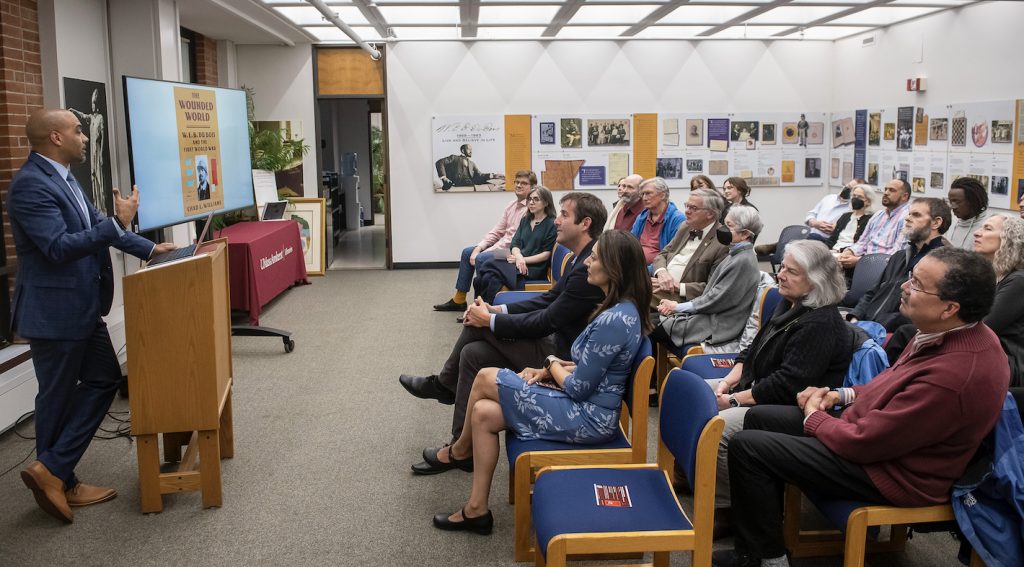 The W. E. B. Du Bois Center at the University of Massachusetts Amherst, located on the 22nd floor of the UMass Amherst Library, was established in 2009. An interdisciplinary space for the study and discussion of Du Bois's work had been envisioned long before by Dr. Randolph Bromery, the first Black chancellor of UMass Amherst during whose tenure the Du Bois Papers were acquired. Since its inception the Center has delivered on that vision and has become both an on-campus and virtual hub for all things related to W. E. B. Du Bois.
The Center's purpose can be broadly divided into two categories. First, the support of new scholarship and research on the work and life of Du Bois and his contemporaries. The Center does this through its fellowship program for postdoctoral scholars and UMass graduate students. Second, the dissemination of our vast array of expertise and resources to all audiences. The Du Bois Center aims to make the work of Du Bois accessible to anyone who wishes to learn more whether they be a fully-fledged Du Bois scholar or someone encountering Du Bois for the first time. It does so through lectures, symposia, reading groups, school visits, workshops, and panel discussions all focused on different aspects of Du Bois's life and work.
The Center takes its charge to steward this vast intellectual legacy seriously, but also its responsibility to be consistent with Du Bois's own record of community leadership and engagement. To this end Du Bois Center applies Du Bois's writings to the discussion of contemporary debates, believing that these can contribute meaningfully to discussion of the problems and issues of the 21st Century. The Center also provides a crucial space for the discussion of issues related to race, social justice, socio-economic inequality and the legacies of colonialism and advocates for the rights of underrepresented groups on campus, in the local community and beyond.