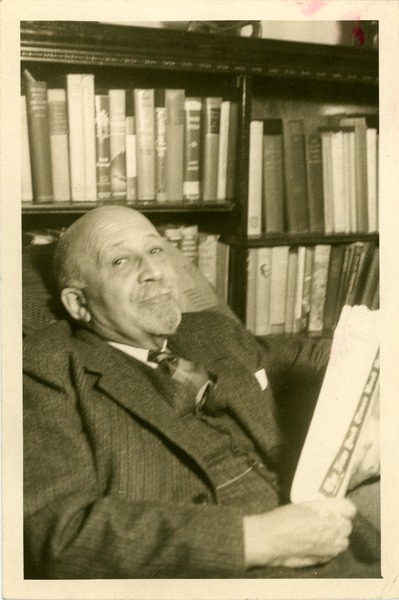 Please note: Applications have closed for the summer of 2023. We will begin accepting applications for the summer of 2024 on January 1, 2024.
The W. E. B. Du Bois Center at UMass Amherst Libraries, in collaboration with the Robert S. Cox Special Collections & University Archives Research Center (SCUA), offers postdoctoral fellowships to assist scholars in conducting new research on the life and work on W. E. B. Du Bois.
Full-time faculty or independent scholars (with a PhD) are eligible to apply. Fellows will receive a stipend of $4,500 for an eight-week library residency as well as a housing / expense allowance of $2,500 
Fellows may come from any field and any perspective, and they may work on any topic, but their research should explore the major themes that characterize Du Bois's scholarship and activism. These include the history and meaning of racial, social, and economic justice; the problems of democracy and political inclusion; the role of capitalism in world affairs; and the global influence of African cultures. Comprehensive, searchable guides and finding aids to SCUA's collections are available online.
Fellows are selected on a competitive basis from applicants interested in conducting original research in the Du Bois Papers and other related SCUA collections. Successful applicants show the potential of their research to shed new light on underexplored areas of Du Bois's life and work, the need to spend significant time in the archives at UMass, and, if possible, an interdisciplinary approach. 
The application should consist of a 1-2 page research proposal, a CV and a letter of recommendation. Fellows typically come to Campus for 4-6 weeks to conduct research over the summer.During this time, the Center organizes weekly check-ins, lunches and other opportunities for fellows to get to know the other members of their cohort. During the following academic year, Du Bois Fellows are required to return to campus to give a public talk at the Du Bois Center. 
For more information, contact the W. E. B. Du Bois Center Assistant Director, Adam Holmes by email (holmes@umass.edu) or phone 413-545-9468.
Graduate Fellowships
The Center also offers fellowships for graduate students at UMass Amherst. This fellowship consists of a $3,000 stipend, and an additional $500 for research expenses. Students need to be available to attend our weekly meetings over the summer and attend monthly Du Bois Center events in the following academic year.
For more information, please contact the W. E. B. Du Bois Center Assistant Director, Adam Holmes by email (holmes@umass.edu) or phone 413-545-9468.