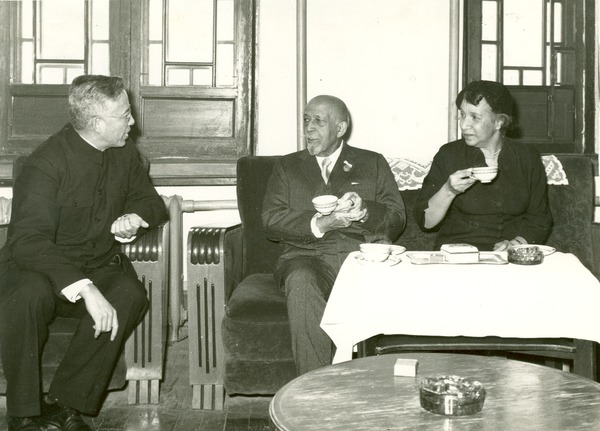 Since February 2019 we have hosted a weekly Monday-morning gathering where we read and discuss a piece by or about W. E. B. Du Bois. These sessions are a wonderful opportunity to get to know the work of Du Bois better and meet other DuBoisians from multiple backgrounds. If you wish to sign up to the 'Breakfast with Du Bois' mailing list, please email our Assistant Director, Adam Holmes (holmes@umass.edu) or fill out this form.
The Breakfasts currently take place on Zoom, but we have plans to host in-person gatherings at the Du Bois Center once a month from September, 2022.
The Readings
Below is a list of the texts we have read since the Breakfasts with Du Bois began in February 2019. Links are included to texts taken from the Du Bois Papers.
08/01/2022 – W. E. B. Du Bois, 'The Transubstantiation of a Poor White', from Black Reconstruction in America, (1935)
07/25/2022 – Anna Julia Cooper, 'Has America a Race Problem?' from A Voice From the South, (1892)
07/18/2022 – W. E. B. Du Bois, 'Of the Coming of John', from The Souls of Black Folk, (1903)
06/20/2022 – W. E. B. Du Bois, 'Of the Dawn of Freedom', from The Souls of Black Folk, (1903)
06/13/2022 – W. E. B. Du Bois, 'The Sane Liberal', 1949 & Address to the World Peace Congress, Helsinki, 1955
05/30/2022 – W. E. B. Du Bois, 'An Essay Toward a History of the Black Man in the Great War', from The Crisis, 1919
05/23/2022 – W. E. B. Du Bois, 'We Claim Our Rights' (1906) & 'The Value of Agitation' (1907)
05/16/2022 – Shirley Graham Du Bois, 'Journeys Into the Past', from His Day is Marching On: A Memoir of W. E. B. Du Bois, 1971
05/09/2022 – W. E. B. Du Bois, 'The Talented Tenth', 1948
05/02/2022 – W. E. B. Du Bois, 'The Negro College', from The Crisis, 1933
04/25/2022 – W. E. B. Du Bois, 'Does the Negro Need Separate Schools?', from Journal of Negro Education, 1935
04/18/2022 – W. E. B. Du Bois, 'The Training of Negroes for Social Power', 1903
04/04/2022 – Jason R. Young, 'Between the Crescent and the Cross', from The Souls of W. E. B. Du Bois (with Edward Blum), 2009
03/28/2022 – W. E. B. Du Bois, 'Peace is Dangerous', 1951 (repeat)
03/21/2022 – W. E. B. Du Bois, 'The Black Man Brings His Gifts', 1925 (repeat)
03/07/2022 – 'The Emancipation of Democracy', from The Gift of Black Folk, 1924
02/28/2022 – Charisse Burden-Stelly, 'Why W. E. B. Du Bois Matters', from W. E. B. Du Bois: A Life in American History (with Gerald Horne), 2019
02/21/2022 – W. E. B. Du Bois, 'Birthday Dinner', 1951
02/07/2022 – W. E. B. Du Bois, 'Negro History Week', 1949
02/01/2022 – W. E. B. Du Bois, 'America's Road to Democracy and World Peace', 1956
01/24/2022 – W. E. B. Du Bois, 'Democracy', 1950
01/17/2022 – Martin Luther King, Jr., 'Honoring Dr. Du Bois', 1968 (repeat)
01/10/2022 – W. E. B. Du Bois, 'Of the Training of Black Men', from The Souls of Black Folk, 1903
12/20/2021 – W. E. B. Du Bois, 'The Black Worker', from Black Reconstruction, 1935 (repeat)
12/13/2021 – W. E. B. Du Bois, 'Education in the Last Decades of the Nineteenth Century', from Dusk of Dawn, 1940
12/06/2021 – W. E. B. Du Bois, 'My Impressions of Woodrow Wilson', 1939
11/29/2021 – W. E. B. Du Bois, 'America and Peace', 1953
11/15/2021 – W. E. B. Du Bois, 'The Burden of Black Women', from The Crisis, 1914
11/08/2021 – James Boggs, Introduction and Chapter 1 from The American Revolution, 1963
11/01/2021 – W. E. B. Du Bois, 'The Spread of Socialism', 1954
10/25/2021 – W. E. B. Du Bois, 'Black Africa Tomorrow', from Foreign Affairs, 1938
09/27/2021 – W. E. B. Du Bois, A Selection of Writings on Haiti
09/20/2021 – W. E. B. Du Bois, 'Africa and America', from John Brown, 1909
09/13/2021 – George Jackson, 'Blood in My Eye', from Amerikan Justice, 1971
09/06/2021 – W. E. B. Du Bois, 'Of Work and Wealth', from Darkwater, 1920
08/30/2021 – W. E. B. Du Bois, 'To the World', 1921
07/16/2021 – Herbert Aptheker, 'The Washington – Du Bois Conference of 1904', in Science & Society, 1949
07/12/2021 – Lawrie Balfour, 'W. E B. Du Bois and the Case for Reparations', from The American Political Science Review, 2003
07/05/2021 – W. E. B. Du Bois, 'Democracy Fails in America', 1954
06/28/2021 – W. E. B. Du Bois, 'The Negro and Social Reconstruction', 1936
06/21/2021 – W. E. B. Du Bois, 'The Coming of the Lord', from Black Reconstruction, 1935
06/14/2021 – W. E. B Du Bois, 'No Second Class Citizens', 1947
05/17/2021 – W. E. B. Du Bois, Selections of 'As the Crow Flies' columns
05/07/2021 – W. E. B. Du Bois, 'The Negro and Communism', from The Crisis, 1931
05/03/2021 – W. E. B. Du Bois, 'The Economic Plight of the American Negro', 1940
04/26/2021 – W. E. B. Du Bois, Selections of 'As the Crow Flies' Columns on the subject of caste
04/19/2021 – Oliver Cromwell Cox, 'The Nature of Caste', from Caste, Class & Race, 1959
04/05/2021 – Correspondence between W. E. B. Du Bois and B. R. Ambedkar
03/28/2021 – W. E. B. Du Bois, 'The Negro Soldier in Britain', 1945 (repeat)
03/22/2021 – W. E. B. Du Bois, 'An Appeal to the World', 1955
03/15/2021 – W. E. B. Du Bois, 'One Hundred Years in the Struggle for Negro Freedom', 1952
03/08/2021 – W. E. B. Du Bois, 'The Criteria of Negro Art', from The Crisis, 1926 (repeat)
03/01/2021 – W. E. B. Du Bois, 'Reconstruction and Its Benefits', from The American Historical Review, 1910
02/22/2021 – W. E. B. Du Bois, 'Postlude', from The Autobiography of W. E. B. Du Bois, 1968
02/15/2021 – W. E. B. Du Bois, 'Whither Now and Why', 1960
02/08/2021 – W. E. B. Du Bois, 'A Pragmatic Program for a Dark Minority', c. 1935
02/01/2021 – W. E. B. Du Bois, 'Prospect of a World Without Race Conflict', from The American Journal of Sociology, 1944
01/25/2021 – W. E. B. Du Bois, 'Forty Years of American Hysteria', 1958
01/18/2021 – Phillip Luke Sinitiere, 'Resisting Repression: W. E. B. Du Bois and the Age of Global Surveillance', 2020
01/11/2021 – W. E. B. Du Bois, 'The Java Plot', c. 1906
03/01/2020 – W. E. B. Du Bois, 'Need for Social Change in the United States', 1951
12/21/2020 – A Selection of Correspondence Between W. E. B. Du Bois and Amy Garvey
12/14/2020 – W. E. B. Du Bois, 'The Damnation of Women', from Darkwater, 1920
11/23/2020 – W. E. B. Du Bois, 'My Character', from The Autobiography of W. E. B. Du Bois, 1968
11/16/2020 – W. E. B. Du Bois, 'Democracy in America', c. 1928
11/09/2020 – W. E. B. Du Bois, 'The Black River', c. 1955
10/26/2020 – W. E. B. Du Bois, 'The General Strike', from Black Reconstruction, 1935
10/18/2020 – Herbert Aptheker, 'Du Bois As Historian', from The Negro History Bulletin, 1969
10/11/2020 – W. E. B. Du Bois, 'Paradox and Portent in Africa', c. 1936
10/05/2020 – W. E. B. Du Bois, A Selection of Short Articles from The Crisis
09/28/2020 – W. E. B. Du Bois, 'The Shape of Fear', from The North American Review, 1926
09/21/2020 – W. E. B. Du Bois, 'The Life of W. E. B. Du Bois', 1953
09/14/2020 – W. E. B. Du Bois, 'Color and Democracy', 1947
09/07/2020 – W. E. B. Du Bois, 'The Confederate Flag', 1952
08/31/2020 – W. E. B. Du Bois, 'Social Medicine', 1950
08/23/2020 – Charisse Burden-Stelly, 'Modern US Racial Capitalism: Some Theoretical Insights', 2020
08/16/2020 – W. E. B. Du Bois, 'The Land of the Burnt Faces', from The World and Africa, 1946
08/10/2020 – W. E. B. Du Bois, 'Atlantis', from The World and Africa, 1946
08/03/2020 – W. E. B. Du Bois, 'The Negro Soldier in Britain', 1945
07/27/2020 – W. E. B. Du Bois, A Selection of Writings on the Experience of Black Soldiers in World War I
07/20/2020 – A Selection of Writings on, and Correspondence Between, W. E. B. Du Bois and Booker T. Washington
07/06/2020 – Frederick Douglass, 'What, to the American Slave, is the Fourth of July?', 1852
06/29/2020 – W. E. B. Du Bois, 'The Negro and the Civil War', from Science & Society, 1961
06/22/2020 – W. E. B. Du Bois, 'Of Beauty and Death', from Darkwater, 1920
06/15/2020 – Saidiya Hartman, 'The End of White Supremacy: An American Romance', 2020
06/08/2020 – W. E. B. Du Bois, 'Of the Culture of White Folk', from The Journal of Race Development, 1917
06/01/2020 – W. E. B. Du Bois, 'Of the Culture of White Folk', from The Journal of Race Development, 1917
05/25/2020 – W. E. B. Du Bois, Selected Writings from Du Bois's Harvard University English Course, 1890-91
05/18/2020 – W. E. B. Du Bois, Selected Writings from Du Bois's Harvard University English Course, 1890-91
05/11/2020 – W. E. B. Du Bois, 'A Negro Schoolmaster in the New South', from The Atlantic Monthly, 1899
05/04/2020 – W. E. B. Du Bois, 'The Black Worker', from Black Reconstruction, 1935
04/27/2020 – W. E. B. Du Bois, Selected Poetry
04/20/2020 – W. E. B. Du Bois, 'A Philosophy of Race Separation', 1935
04/06/2020 – W. E. B. Du Bois, 'The Princess Steel', c. 1905
03/16/2020 – W. E. B. Du Bois, 'The Crucifixion of John Brown', 1959
03/09/2020 – W. E. B. Du Bois, 'The Niger and Islam', from The Negro, 1915
03/02/2020 – W. E. B. Du Bois, Report to the Ghana Academy of Sciences, 1961
02/17/2020 – W. E. B. Du Bois, 'Behold the Land', 1946 (repeat)
02/10/2020 – Carol Taylor, 'W. E. B. Du Bois's Challenge to Scientific Racism', from The Journal of Black Studies, 1981
02/03/2020 – W. E. B. Du Bois, 'The Negro Problems of the United States', 1952
01/27/2020 – W. E. B. Du Bois, 'Peace is Dangerous', 1951
01/20/2020 – Martin Luther King, Jr., 'Honoring Dr. Du Bois', 1968 (repeat)
01/13/2020 – W. E. B. Du Bois, 'Black Hercules at the Forks of the Road,' c. 1931
01/06/2020 – W. E. B. Du Bois, Selected Fables
12/23/2019 – W. E. B. Du Bois, 'Black America', 1932
12/16/2019 – W. E. B. Du Bois, 'Of the Dawn of Freedom', from The Souls of Black Folk, 1903
12/02/2019 – W. E. B. Du Bois, 'Education and Work', 1930
11/25/2019 – W. E. B. Du Bois, 'Education and Work', 1930
11/18/2019 – W. E. B. Du Bois, Selected Writings on Religion
10/28/2019 – W. E. B. Du Bois, Selected Poetry
10/21/2019 – Video and Selected Speeches from the Dedication of the Du Bois Boyhood Homesite, Great Barrington, MA, 1969
10/14/2019 – W. E. B. Du Bois, 'Propaganda and World War', from Dusk of Dawn, 1940
10/07/2019 – W. E. B. Du Bois, 'Propaganda and World War', from Dusk of Dawn, 1940
09/30/2019 – W. E. B. Du Bois, Editorial on Crime and Lynching, from The Crisis, 1912
09/23/2019 – Ian Frazier, 'When W. E. B. Du Bois Made a Laughingstock of a White Supremacist', from The New Yorker
09/16/2019 – David W. Blight, Selections from Race and Reunion, 2001
09/10/2019 – W. E. B. Du Bois, 'Of Our Spiritual Strivings', from The Souls of Black Folk, (1903)
09/02/2019 – W. E. B. Du Bois, 'The American Labor Party', 1953
08/26/2019 – W. E. B. Du Bois, Address to the First All African People's Conference, Accra, Ghana, 1958
08/19/2019 – W. E. B. Du Bois, 'Behold the Land', 1946
08/12/2019 – W. E. B. Du Bois, Audio Extracts from his Recorded Autobiography, 1961
08/05/2019 – W. E. B. Du Bois, Audio Extracts from his Recorded Autobiography, 1961
07/29/2019 – W. E. B. Du Bois, 'The Souls of White Folk', from Darkwater: Voices From Within the Veil, 1920
07/22/2019 – W. E. B. Du Bois, 'A New England Boy and Reconstruction', from Dusk of Dawn, 1940
07/15/2019 – Lerone Bennett Jr., Keynote Speech from the Opening of the W. E. B. Du Bois Papers, 1980
07/08/2019 – W. E. B. Du Bois, 'The Comet', from Darkwater: Voices From Within the Veil, 1920
07/01/2019 – W. E. B. Du Bois, 'The Slave, The Serf, and the Blonde Beast: A Vision', 1941
06/25/2019 – W. E. B. Du Bois, 'A Negro Nation Within a Nation', from Current History, 1935
06/17/2019 – W. E. B. Du Bois, 'The Black Man Brings His Gifts', 1925
05/27/2019 – Elizabeth Moos, 'Report on W. E. B. Du Bois's Indictment and Trial', 1951
05/20/2019 – W. E. B. Du Bois, 'My Campaign for Senate', from In Battle for Peace, 1952
05/13/2019 – W. E. B. Du Bois, 'Education and Work', 1930
05/06/2019 – W. E. B. Du Bois, Selected Poems
04/29/2019 – W. E. B. Du Bois, Selected Poems
04/22/2019 – W. E. B. Du Bois, 'Sociology Hesitant', 1905
04/15/2019 – W. E. B. Du Bois, A. D. 2150, 1950
04/08/2019 – W. E. B. Du Bois, 'The Talented Tenth: the Re-Examination of a Concept', 1948
04/01/2019 – W. E. B. Du Bois, 'Socialism and the Negro Problem', from The New Review, 1913
03/26/2019 – W. E. B. Du Bois, 'I Won't Vote', from The Nation, 1956
03/19/2019 – W. E. B. Du Bois, 'I Take My Stand For Peace', 1951
03/12/2019 – W. E. B. Du Bois, 'The Criteria of Negro Art', from The Crisis, 1926
03/05/2019 – W. E. B. Du Bois, 'The Servant in the House', from Darkwater: Voices From Within the Veil, 1920
02/25/2019 – W. E. B. Du Bois, Selections from The Crisis on the theme of segregation
02/18/2019 – W. E. B. Du Bois, 'The Princess of Hither Isles', from Darkwater: Voices From Within the Veil, 1920
02/11/2019 – Martin Luther King, Jr., 'Honoring Dr. Du Bois', 1968
02/04/2019 – W. E. B. Du Bois, 'Jefferson Davis as a Representative of Civilization', 1890